Hearing Aid styles can be prescribed to suit varying degrees and types of hearing loss. Our audiologists can recommend the style that will work best for you taking into account your lifestyle and budget. The hearing aids fitted at Bellarine Hearing Clinic are digital and programmed by computer by us to match your hearing loss. We also offer a range of re-chargeable Hearing Aids.
Designed and built by leading manufacturers, our range covers a basic digital Hearing Aid to the most advanced technology available - suitable for all types of hearing loss. All Hearing Aids across our range come with direct streaming, which means you can connect to your smart phone for ease of use.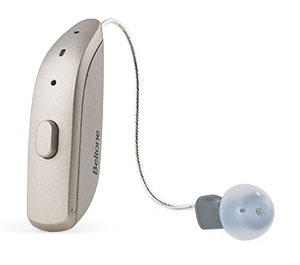 Natural Sound
Our new revolutionary hearing technology, Microphone & Receiver-in-Ear hearing solution, filters and delivers the most natural sound yet, effortlessly processing multiple sounds at once. You get premium sound quality, a full understanding of your surroundings, and even better speech recognition.
Uses the uniqueness of your ear to deliver sounds exactly as nature intended.
World-class technology keeps you connected to your world.
Made with an all-new design, colors, and features to fit your lifestyle.